You should be prepared for everything.
Including the best case.

We guarantee our customers innovative solutions and highly efficient products on the basis of mathematical calculations. We are committed to creating strong partnerships based on trust that last for many years. And we are proud to have ourselves been a reliable partner for many well-known companies. Because investing in partnerships always pays off.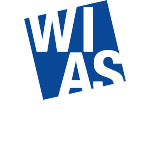 Weierstraß-Institut für angewandte Analysis und Stochastik
Mohrenstraße 39, 10117 Berlin
wias-berlin.de